Restaurant
The Alasha is a hand-made carpet which, according to legend, is intended for honoured and welcomed guests. Upon entering a house, visitors are always offered soul-enlivening tea and a variety of victuals from among their Oriental cuisine menus. The wizard-cooks of our restaurant will prepare the choicest of traditional dishes: tasty and well-flavoured pilaf, traditional Oriental flat cakes, succulent samosas with golden crispy crusts. Your soul will be contented with the traditional sorpa broth cooked with tender mutton. Also on the menu are 20 kinds of kebabs that are exquisite enough to satisfy the desires of any gourmet. Finally, the tandyr-roasted mutton – a real Khan dish – will be on your table to stagger your imagination.
Not a single table laid by the hospitable hosts will be void of Oriental cookies. Tender and light Pahlava that readily dissolves in the mouth, Iranian pistachios, dried apricots, sweet Kishmish, Shirin Bodom almonds and, of course, fresh juicy fruits from the "Golden Gardens" of the East will be theirs for the tasting.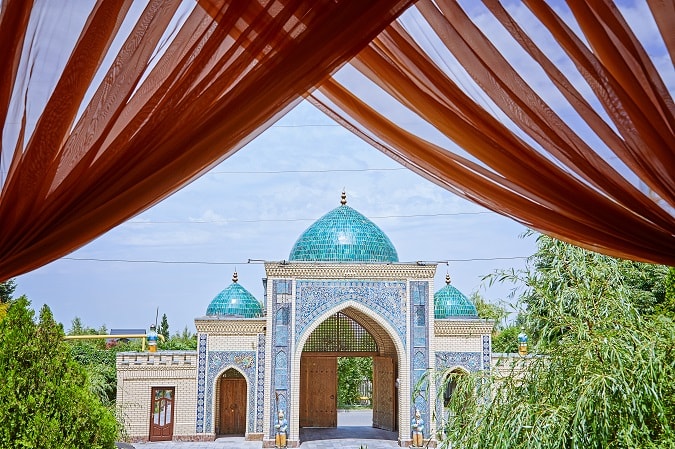 Алаша Ресторан
Мудрость обретается со временем, и нет ей цены. Народ, который хранит мудрость предков, всегда осенен ее благодатью. Восток веками неторопливо накапливал свои сказания, и они оказались сокровищницей для нас, живущих на этой земле.
Call the numbers: +7(727)254-07-00, +7(707) 746 3489
Хотите, чтобы свадьба прошла ярко и незабываемо? Ресторан «Алаша» – лучшее место для организации свадебного торжества по старинным казахским традициям или в современном стиле.

Мы создадим идеальную атмосферу для долгожданного торжества и обеспечим идеальное банкетное обслуживание. К вашим услугам – оформление и декор банкета, световая и звуковая аппаратура, услуги музыкантов и ведущего. Возможна аренда отдельного банкетного зала или всего ресторанного комплекса, включая парковку.

Read more

Отметить день рождения в ресторане «Алаша» – это возможность провести торжество на достойном уровне, избавив себя от всех хлопот по организации праздника. Мы организуем праздничное застолье, предоставим услуги оформителей и музыкальное сопровождение.

Для проведения праздника можно арендовать банкетный зал или весь ресторан. Для гостей предусмотрена большая парковка.

Read more

Ресторан «Алаша» – превосходный выбор для проведения корпоративных праздников любого уровня и формата. Мы гарантируем, что корпоративный вечер пройдет весело, ярко и интересно!

У нас есть все необходимое, чтобы организовать неповторимый праздник – разнообразное меню с традиционными и современными блюдами, комфортабельный и уютный интерьер, качественное обслуживание. По вашему желанию мы украсим помещение в выбранном стиле и обеспечим музыкальное сопровождение корпоратива.

Read more
What do our customers say
Reviews
The restaurant is really good, and they cook deliciously! But there's only a small request – YOUR SCREENS ARE AVAILABLE AS ON AIVAN! And then it was taken straight to our table that time, and the child was almost hurt …
Aya
Had lunch today. Food was carried for more than 10 minutes. The eggplant salad was very tasty, fresh, you can see that we just cooked. The administrator met everyone with bows. It is not surprising that people go here to eat. Personally, I liked the restaurant, the barbecue is excellent, the salads are also on the level!
Serik
This error message is only visible to WordPress admins
There has been a problem with your Instagram Feed.